Come and join us for a great evening
or even for Friday or Saturday lunchtime!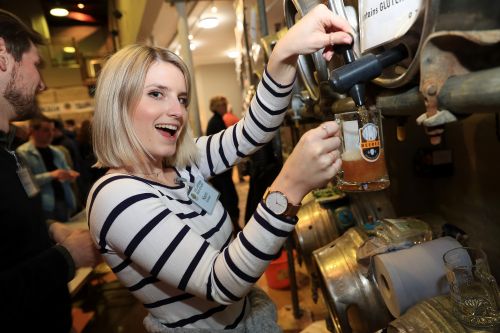 Where is Beerex held: Beerex is held at The Farnham Maltings, Bridge Square, Farnham, Surrey. GU9 7QR. Click the map below for details.
How can I get to Beerex: Beerex is easily accessible by rail, road or bus. Farnham railway station is on a direct line to London Waterloo, and has good connections across the south of England including the recently added new line to Guildford. The Farnham Maltings is a five minute walk from the train station.
As all of our tickets are sold online and immediately fulfilled electronically, thus we are unable to offer any refunds on tickets once issued.
Accessibility: Farnham Maltings own website has full details, however the key points for Beerex visitors are reproduced below from the Farnham Maltings website. To view the Maltings own website click here
Wheelchairs: The main entrance, Box Office, shop and Café Bar are fully accessible on the ground floor. The Great Hall, Cellar Bar, Barley Room, Tindle Studio and Tannery* are accessible via stairs or lift. The Great Hall can accommodate up to four wheelchairs. *The Tannery is also a through route to the first floor accessible toilet.

Toilets: There are three accessible toilets. One is located on the ground floor, and one on the first floor, with a new facility in the cellar bar. The toilet on the first floor is only accessible to wheelchair users via the Tannery.






Train times are easily accessible on the National Rail website and journey planner.
Click Here



Please accept that we take no responsibility if times vary from the published timetable.
All profits are for the benefit of local charities
We want everyone to have a safe and enjoyable festival, but please remember it is against the law for us to serve anyone who is obviously drunk, and all the servers are volunteers, so please help us to continue to create a great & safe festival for all, having a great time with sensible moderation is the key.